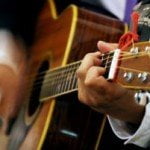 Elton John and Leon Russell are veteran piano playing artists with a new set they are playing together and a new album, "The Union". Now that album has been named one of the year's best by Rolling Stone magazine.
This is an amazing achievement from Elton and Leon. Elton John will be familiar to most, but that is not true for Leon Russell. Leon is nevertheless, one of the unknown major influences in music today. Very few people even in the music business know how much he has done and still is doing for and with music. Leon Russell is one of rock's originals. It is a fact that Leon Russell is has been rather passed over, and is not in the rock and roll hall of fame to the extent he should be.
Many artists start out as musicians and then become rock stars. Leon Russell has been the opposite , and as this as album shows he is happiest being a serious musician, producing exquisitely crafted numbers. As the 52-year-old Russell walks on stage in his current act, with matching white suit and cowboy hat and flowing hair and beard, he cuts an imposing figure. Leon Russell is the being lauded as the biggest name not many have heard. Maybe, his quiet period was something he needed for his art, but has also suffered ill health as the words of the ballad, Hands Of Angels, attest.
The album from the show quite naturally mirrors the success of the show. In the show Elton comes out and explains the program for the show. If the future performances run to this order, Leon performs first, followed by Elton, then they play together, in the final part Elton returns again. Leon enters from stage left and plays an amazing five-song set followed by seven from Elton, that's 12 all together from their new album, The Union , then ten more by Elton.
Elton has worshipped Russell for over three decades and has huge respect for Leon. Elton says that, "Songwriters today are pretty awful, which is why everything sounds the same. Contemporary pop isn't very inspiring." John reveals in the liner notes that he considers Russell to be a personal hero of his. It is clear that he approached him hoping to bring the groundbreaking musician the attention and honor he deserves, and this seems now to be happening.
Elton John has been performing since he and Bernie Taupin met in 1967, and an non-stop 25 years of creativity has ensued with Elton John selling more than 200,000,000 records, and being awarded 23 Gold albums and 13 Gold single records. He and lyric writer, Bernie Taupin, comprise one of the longest-running and most successful song writing teams of all time.  John and Taupin have so far created together over 30 albums. That is an extraordinary reign of popularity and a massive accomplishment.