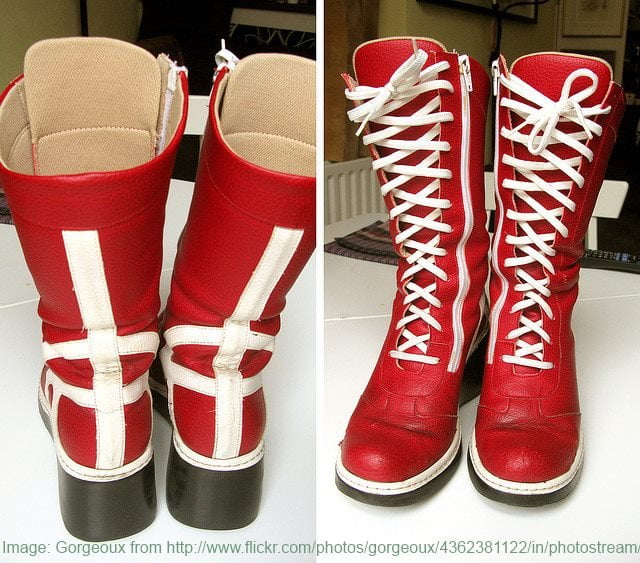 Wonder woman boots are back, and they are a hot trend!
The classic wonder woman costume includes the familiar red and blue strapless mini dress with that famous "wonder woman" logo and star accents. You could add to that a red cape, bracelets, and a gold tiara with a red star, but the effect wouldn't really look that impressive without those red and white topped wonder woman boots! It creates a fabulous you when you wear Wonder Woman fancy dress. You become the most popular heroine in comic book history! Now that can't be bad! But, you will need the right boots.
The authentic-looking Women's Red and Gold High Heeled Boots feature a 3 3/4 inch heel on a solid-red boot with a gold stripe at the top. These are the "must-have" boots for a Supergirl Costume, or Wonder Woman outfit!
WW Boots on a Shoe-String Budget for a Party
Say you want to be Wonder Woman for Halloween, but don't want to spend on a pair of boots that you will only wear once? One way would be to buy a pair of knee-high, black stretch-leather boots at a thrift store, and cut them at the top to shape (an upside-down V) and paint on the stripes.
For coloring, you can try painting the boots red and painting the soles and heel white with flexible acrylic paint. The stripes and the border at the top can be added using white tape.
You should do this, several days before the party, and if the paint peels off, try another paint type until the result satisfies you. The material of the boots will stretch somewhat and the spray paint may not stretch with it and fall off! It can be quite tricky to do this, but it is by no means impossible to produce an effect good enough for a night-time party.
Bear in mind that a Wonder Woman costume needs to look sexy, and fit really well. Also, the boots should fit you well enough so that if you want to dance all night in them that they will be comfortable enough and not make your feet sore.
Costume boots that are not leather may actually be an asset in this case as to wear new leather wonder boots could easily rub your feet sore unless there was time to "break-them-in" gradually beforehand. In this respect, the patent type material used in costume boots might be better than some of the high-end expensive 'real' wonder woman boots which can be bought. The best of these "fake" boots can still turn lots of heads and complete the costume.
Wonder Woman Boots for a Child?
Children's sized Wonder Woman Boots are available and are a great addition to any of Child's Wonder Woman Costume.
If you are looking for a complete Wonder Woman outfit then consider the selections of Wonder Woman Costumes for any age group which can be bought online.
Affiliate Declaration: We like to be totally open about the fact that this website is supported financially by Affiliate Links. If you buy any product we may receive a percentage as an affiliate payment. Should you be concerned that our reviews and descriptions be biased by this fact we would like to reassure you that all the products we recommend are always our honest opinion, used and tested by us or our partners to comply with a high standard of value. That we can make no undertaking that should you buy any product it will bring you value or make you a profit, is simply due to the fact that we don't know you. Every buyer has a different level of skill in using a product and will apply the product in a different way.