What are Hemp Hearts?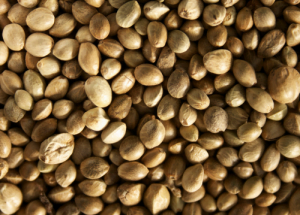 They are shelled hemp seeds and they are increasingly being recommended by health care professionals and are especially useful for older individuals with chronic health problems. They sold in increasing quantities through health food stores and online through such websites as the Amazon Store.
Organic hemp hearts (also known as "shelled hemp seeds" or "shelled hempseed") are a nutritious, versatile and tasty food. Cold-processed (under 104°F) straight from fresh, live hemp seeds, hemp hearts are about the same size as a sesame seed. In the best products available, the hard outer shell of the hemp seed has been removed mechanically without the use of hexane or any other toxic solvent, leaving just a soft, creamy and nutty "hemp heart".
Hemp Hearts are packed full of protein with products available with about 10 grams of plant-based protein per 30 gram serving size. That means that Hemp Hearts are a great way to get an ideal ratio of Omega-6 to Omega-3's including the rare EFA known as Gamma-Linolenic Acid (GLA).
There are plenty of Hemp Heart products available that contain no additives or preservatives. And, there are also sellers offering Hemp Hearts made in dedicated hemp food facilities that do not process any dairy, soy, nut or gluten products, so that allergy sufferers need not be concerned that they may develop any possibility of an allergic reaction from such products.
Are Hemp Hearts Good to Eat?
Most agree that they have a pleasant nutty flavor & the most versatile product we carry. Sprinkle hemp hearts on salads, or add to cereal, yogurt, in baking or even into smoothies!
There's no need to grind the seed as they are ready to eat straight from the bag, and fans of this food say that these seeds make it very easy to get omegas, protein & fiber into their diet.
The Benefits of Hemp Hearts
Those that eat them as part of their daily diet say that regular inclusion of a portion for breakfast provides sufficient energy to make you want to be more active and as a result this increases productivity. Hemp seeds are nutty and sweet like pine nuts and the outcome from that is that many people say that this food helps them enjoy life better.
An added advantage is that it is reported that after eating this food you will not need energy boosts from coffee and other stimulants. That in fact is where this food's weight control capability kicks in, as those that are already eating this food say that they naturally select fewer sweets, reduce their snacking, and no longer find sugar-based drinks particularly appetizing.
It might sound almost too good to be true, but testimonials have shown that the GLA in hemp helps alleviate arthritis, joint mobility, eczema, hormonal balance, migraines, menopause in women, healthy cholesterol and blood pressure levels and even assist with weight management. We think that these seeds which are nutty and sweet like pine nuts can only rise in popularity, so expect to read more about them in future.
Refer to our Amazon suppliers list below for the best deal today:
[DEAL_OF_THE_DAY]