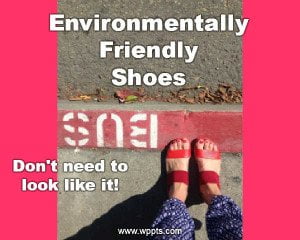 If you're on the market for new footwear, why not try environmentally friendly shoes. With sneakers, flats, heels, and other designs available, there's a style on the market that's right for you. You don't need to give up style and comfort in order to become a friend of the Earth.
When people hear the term "environmentally friendly shoes," the first things that enter their minds are Birkenstocks or moccasins. This should not be the case, because modern eco-friendly shoes don't sacrifice style for their lower carbon footprint.
Environmentally-friendly shoes are made of organic or recycled materials. Their linings can be made from bamboo or recycled yarn. The outer layer of the shoe may be made from hemp, organic bamboo, or any other sustainable material. Recycled plastic can be used to make laces, while recycled tires can be used to fashion the soles of shoes.
There are several companies that manufacture environmentally-friendly shoes. These companies make a conscious effort to decrease their carbon footprint with regards to their operations, including their processing, manufacturing, and shipping activities. Even large companies are working toward decreasing their carbon emissions by restructuring their processing methods in order to conserve energy.
Consumers should be well informed and should read the labels to find out whether the pair of shoes they're considering buying are environmentally friendly. Some labels contain information about the total environmental impact of the pair. Some manufacturers have a rating system with regard to the carbon footprint a pair has. If the product is said to be organic, then it should have a USDA label. This label certifies that the footwear was made from natural materials and was processed without chemicals. The health of the ecosystem where the sources of materials were grown will also be considered.
Many people also consider fair trade when they purchase shoes. Farmers are among the worst treated professionals in the world. "Fair trade" means good working conditions, fair wages, and reasonable treatment of the environment. Fair trade also gives farmers the freedom to choose whom to trade their goods with. Additionally, GMOs and toxic pesticides are not allowed in the manufacturing of fair trade products.
Most environment ally friendly shoe manufacturers use minimal and biodegradable packaging to keep their carbon footprint low. Additionally, some companies give part of their profits to organizations that help the environment.
You can go online and do your research to find out where you can buy green footwear. Some retail stores have entire "green lines" because of the demand for such products. Buying and using eco-friendly shoes is an easy way to help care for planet Earth.