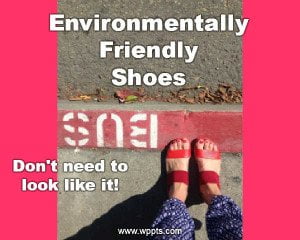 If you're on the market for new footwear, why not try environmentally friendly shoes. With sneakers, flats, heels, and other designs available, there's a style on the market that's right for you. You don't need to give up style and comfort in order to become a friend of the Earth.
Minimize your environmental footprint with eco-friendly and sustainable sneakers. The best eco-friendly sneakers and sustainable shoes include sneakers from Allbirds, TOMS, and Rothy's
When people hear the term "environmentally friendly shoes," the first things that enter their minds are Birkenstocks or moccasins. This should not be the case, because modern eco-friendly shoes don't sacrifice style for their lower carbon footprint.
Definition of an Environmentally Friendly Shoe
There's no concrete definition on what makes a sneaker eco-friendly or sustainable, but most of the leading models boast a build using recycled materials, like plastic and rubber, or renewable materials, like cotton or cork.
Recycled Materials Used in Eco-Shoes
Environmentally-friendly shoes are made of organic or recycled materials. Their linings can be made from bamboo or recycled yarn. The outer layer of the shoe may be made from hemp, organic bamboo, or any other sustainable material. Recycled plastic can be used to make laces, while recycled tires can be used to fashion the soles of shoes.
There are several companies that manufacture environmentally-friendly shoes. These companies make a conscious effort to decrease their carbon footprint with regards to their operations, including their processing, manufacturing, and shipping activities. Even large companies are working toward decreasing their carbon emissions by restructuring their processing methods in order to conserve energy.
Study the Labels for Evidence of Low Carbon Shoe Manufacture
Consumers should be well informed and should read the labels to find out whether the pair of shoes they're considering buying is environmentally friendly. Some labels contain information about the total environmental impact of the pair. Some manufacturers have a rating system with regard to the carbon footprint a pair has. If the product is said to be organic, then it should have a USDA label. This label certifies that the footwear was made from natural materials and was processed without chemicals. The health of the ecosystem where the sources of materials were grown will also be considered.
Consider Buying "Fair-Trade" Shoes
Many people also consider fair trade when they purchase shoes. Farmers are among the worst treated professionals in the world. "Fairtrade" means good working conditions, fair wages, and reasonable treatment of the environment. Fairtrade also gives farmers the freedom to choose whom to trade their goods. Additionally, GMOs and toxic pesticides are not allowed in the manufacturing of fair trade products.
Minimal and Biodegradable Packaging
Most environmentally friendly shoe manufacturers use minimal and biodegradable packaging to keep their carbon footprint low. Additionally, some companies give part of their profits to organizations that help the environment.
You can go online and do your research to find out where you can buy green footwear. Some retail stores have entire "green lines" because of the demand for such products. Buying and using eco-friendly shoes is an easy way to help care for planet Earth.
---
Examples of Environmental Friendliness in Shoemaking
---
Shoemakers Who Consider the Environment
Made in North Carolina, U.S. Mohinder's traditional handwoven water-buffalo leather shoes made by 3rd generation master shoemakers in Athani Village, India.
American Footwear Company in Peru. Operates a hand-up model that empowers shoemakers in emerging economies by connecting them to the global marketplace in a responsible manner.
Adidas X Parley Running Shoes
CC BY-SA by designmilkIt's Adidas collection creates shoes using plastic trash cleaned from remote beaches and coastal communities.
A recent article by Jennifer Nini on the Adidas X Parley collaboration on the upcycled sustainable running shoes has generated a lot of interest.
Eco-Friendly Sustainable Shoes that Help the Environment
One trend among many that have gained popularity in the preservation of the environment is the use of sustainable shoes.
One brand's shoes are made from sustainable materials like fsc-certified tencel™ lyocell and zq merino wool, the latter of which ensures environmental and animal-friendly practices.
The Best Sustainable Shoes for Both Men & Women
Keep reading for a head-start in the right direction because we're going to give you some of the best eco-friendly shoes to buy for men and women, as well as our top list of eco-friendly shoe brands.
For women's green shoes, general price ranges for vegan high heels average at $65.
Why buy sustainable shoes?
By buying shoes suitably described, you're making a contribution to supporting a more sustainable footwear industry.
"Like so many things, I find it more sustainable to buy high-quality rather than cheap shoes that aren't as comfortable and wear out quickly."
TOMS Women Shoes
Toms Even has a line of vegan shoes. Navy polka dot linen women's classics £42.
Ye Olde Village Shoemaker.
These suppliers include Longteens (a shop run by older shoemakers with over 20 years of experience), praveena weangbunphot (a small group of hmong women that repurpose items in accessories), and taki handmade (the hand-woven cotton supplier run by Thailand's Karen Hill "tribe").
Native Shoe x Save the Duck
Libby award winners native shoes and save the duck collaborated to create the solution to exploitative winter boots: the Lhotse. It's made with alternative materials such as save the duck's 100% polyester fabric (which offers resistance against any weather forecast), making it an extremely high performer in terms of waterproofness and breathability.
Shoemaker and "Inner Sense "
Sense'", Sydney shoemaker attempts to reconcile two commitments: That Shoemaker rejects both. The projection view and the existence of inner sense, and develops an.
Eco-friendly shoes that are as comfortable as they are sustainable
Think! creates sustainable, comfortable styles for men and women. They say, "think! creates shoes that are good for your feet.
Their recycled shoes are comfortable and lightweight, plus they're cushioned with sustainable
Best Shoes for Comfort – Allbirds
Welcome to Allbirds shoes that are dedicated to being natural, ethical, and as comfortable as can be.
Allbirds claims to offer the world's most comfortable shoes, and they just might be right.
Affiliate Declaration: We like to be totally open about the fact that this website is supported financially by Affiliate Links. If you buy any product we may receive a percentage as an affiliate payment. Should you be concerned that our reviews and descriptions be biased by this fact we would like to reassure you that all the products we recommend are always our honest opinion, used and tested by us or our partners to comply with a high standard of value. That we can make no undertaking that should you buy any product it will bring you value or make you a profit, is simply due to the fact that we don't know you. Every buyer has a different level of skill in using a product and will apply the product in a different way.